Climbing vine Plants to Grow
Climbing Vines or Lta in Hindi is really common in India. We see Indian house or wall covered with beautiful vines. So Do you ever try to think about the best vine you can try in your home or garden? We bring you the list and Pictures of best Climbing Vines.vine plants identification are explained with pictures.
List of Climbing vine plants and vine plants identification
Jewel of Africa Nasturtium Seeds
Henryi Clematis
Emerald Falls Dichondra Ground Cover Seeds
Clematis
Campsis Radicans (Trumpet Vine)
Morning Glory
Sweet Peas
Blue Moon Wisteria
Bougainvillea
Zephirine Drouhin Rose
Heavyweight Wisteria
Yellow Variegated Ivy
Jasmine
1. Jasmine Vine Plants
The jasmine plant is a source of exotic fragrance in warmer climates. It is an important scent noted in perfumes and has herbal properties. The plants may be vines or bushes and some are evergreen. Most jasmine plants are found in tropical to sub-tropical climates, although a few may thrive in temperate zones.
2.Yellow Variegated Ivy
Variegated ivy leaves will typically have green and white or yellow markings. The white and yellow areas on the variegated ivy leave lack chlorophyll. Chlorophyll serves many purposes, the main ones being producing food for the variegated ivy plant and protecting the plant from the rays of the sun.
3. Heavyweight Wisteria vine plants
Wisteria provides the drapery and slipcover to camouflage a view or provide living shade over porch and pergola. However, note that it can take a good six years for a newly established wisteria to start flowering—sometimes longer!
The vine may grow 10 feet or more in one year! This gives the artful gardener a paintbrush with which to cover the landscape-canvas.  Wisteria is also beautifully fragrant providing a feast for the senses.
4. Zephirine Drouhin Rose vine plants
Bourbon roses are fragrant shrubs or climbers, with glossy leaves and repeating flowers. They make ideal candidates for screening or growing up a wall, arch, or trellis, and they are also useful for borders and hedges.




5. Bougainvillea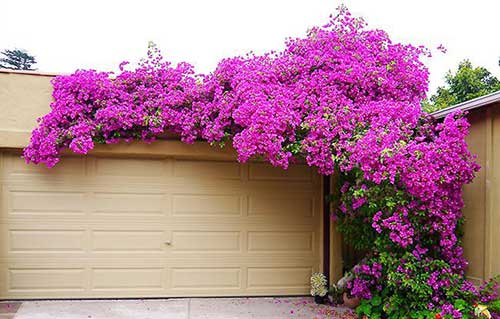 Bougainvillea is a tropical, shrub-like vine that bursts forth with colorful flowers for 11 months of the year if it's planted in the right climate. To grow bougainvillea, plant it in full sun, slightly acidic and well-drained soil, and a relatively hot and dry climate.
Continue caring for your bougainvillea plant by watering sparingly, fertilizing every few months, pruning at the end of the season, and training it the climb a nearby wall or trellis. When cared for properly, this beautiful plant should return each year.
6. Blue Moon Wisteria vine plants
A remarkable cultivar of our native Kentucky Wisteria, 'Blue Moon' is cold-hardy to -40 degrees Fahrenheit with no loss of flowering ability and reblooms to assure you of fragrant flowers for months. Vigorous, quick-growing, and tirelessly floriferous, this Wisteria produces large, showy, lilac-blue flowers held in foot-long racemes like enormous clusters of grapes.
7. Sweet peas
Sweet peas enchant us with their fragile, seductive fragrance and make great bouquets. These pea-like flowers grow in many lovely colors and are suitable for an annual border, a woodland garden, and a trellis or arch.




8. Morning glory
The Morning-Glory, in the family Convolvulaceae, contains at least 50 genera and more than 1000 species. Morning-Glory flowers are one of the best flowers to decorate our fences and walls. As the name goes, morning glory flowers are vines, which are saucer-shaped, opening at morning time.
9.Campsis Radicans (Trumpet Vine)
Trumpet creeper is a fast-growing perennial vine. Growing trumpet vine creepers is really easy, some gardeners consider the plant invasive, with adequate care and pruning, trumpet vines can be kept under control. Keep reading to learn more about how to grow trumpet vine.
10. Clematis
Clematis are popular among climbers, grown for their huge range of flower shapes and colors, and sometimes evergreen foliage. From summer-flowering clematis through to winter-flowering clematis you can have these beautiful flowers in your garden for most of the year! Happy in the garden border or in a container on the patio, clematis is easy to grow if you follow a few simple steps.
Read on for advice about planting, feeding and pruning clematis for the best show in your garden! Browse our full range of clematis plants for sale for inspiration.
11. Emerald Falls Dichondra Ground Cover Seeds
Start Dichondra seeds if you are looking for a rich, green plant for a hanging basket or a dense, lush ground cover! Dichondra Repens Emerald Falls has the perfect foliage for you. Emerald Falls Dichondra is full and very trim, with deep green leaves and a dense, uniform habit that looks as if you must keep it trimmed at all times.




12. Henryi Clematis –
Chocolate anthers and deep green foliage add elegance to this almost perfectly white clematis. A classic choice, blooming in June and September and a winner of the Royal Horticultural Society's Award of Garden Merit. Support for posts or trellis, or let vines clamber over shrubs. Thrives in well-drained soil. Mulch around the roots to keep them cool and shaded.
13. Jewel of Africa
Nasturtium 'Jewel of Africa' is a gorgeous trailing variety. The bushy plants bloom profusely with double and semi-double flowers. This mix from the series gives blooms in mahogany, rose, gold, peach and primrose, many with mahogany-red markings in the throat.
Uniform and compact in habit, it is excellent in containers, producing low, compact, round clusters, the beautiful flowers are carried well above the foliage and the color combinations change almost daily.
14 & 15 Will be done by a vote now in the comment about your favorite vine plant